Covid-Safe Product Sampling Tour
A nationwide Covid safe product sampling tour for So…? fragrance.
The iMP experiential team went 'On The Road With So' in our branded ice cream van on a socially distanced and covid safe product sampling tour of the UK.
Following the success of our sampling activation for Daioni iced coffee we delivered a Covid-safe interactive roadshow for So…? fragrance body mist visiting busy town and city centres.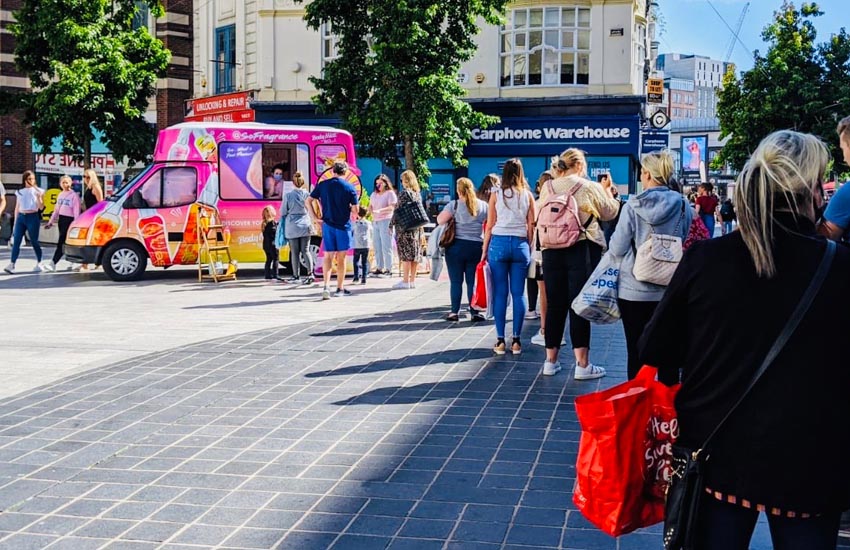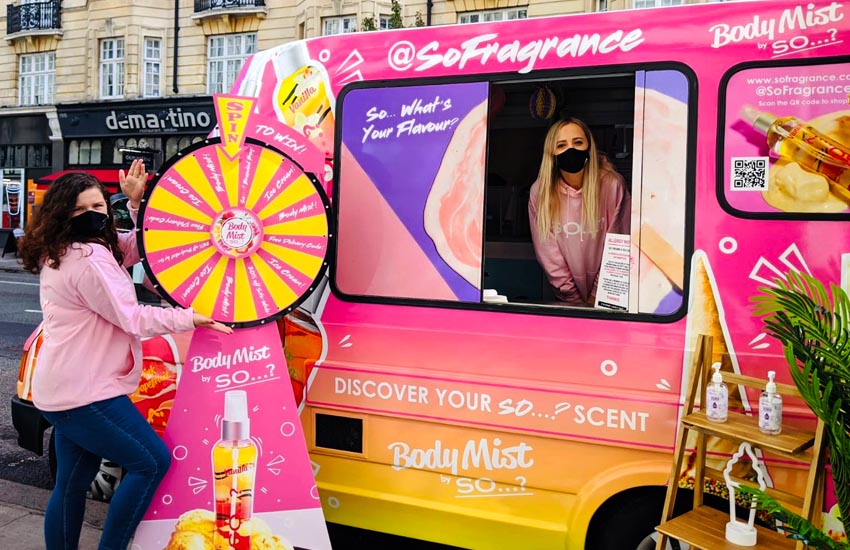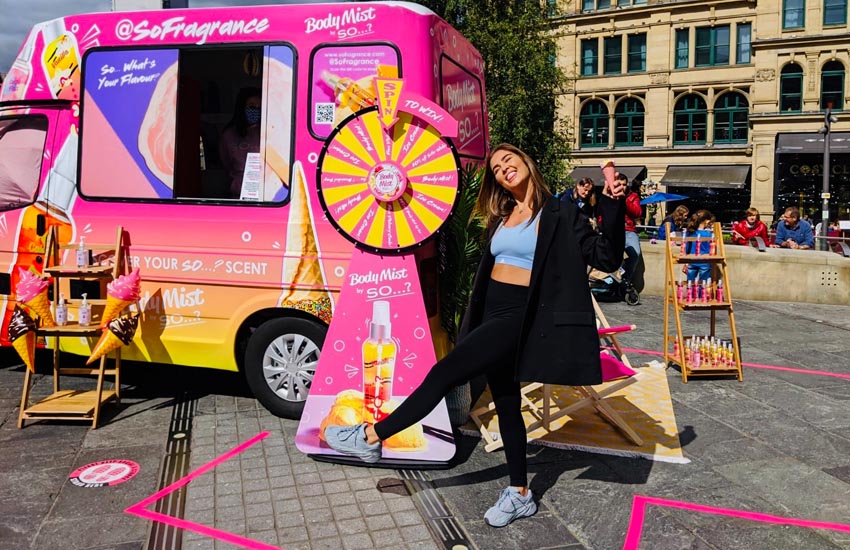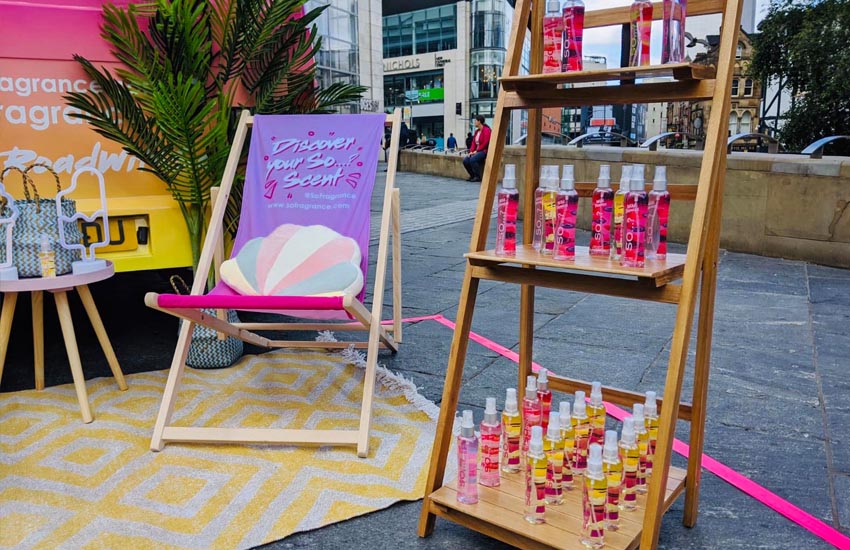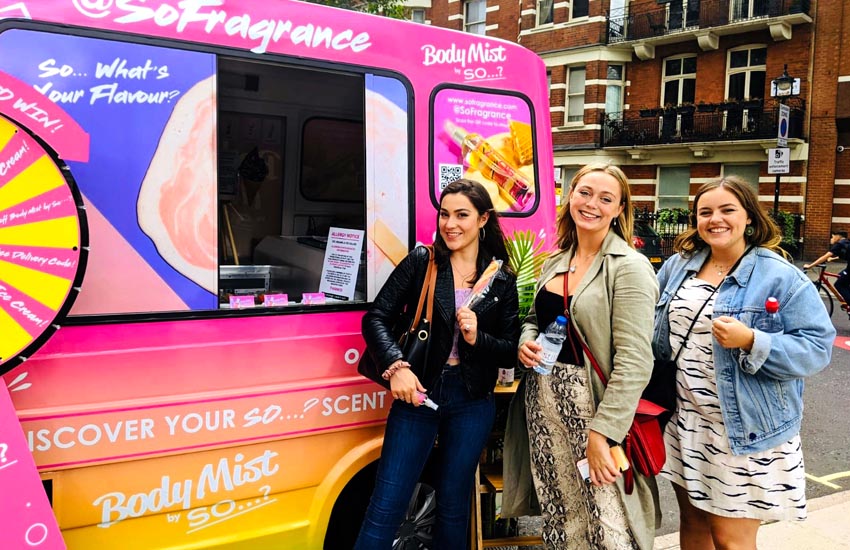 Covid safe product sampling
Wrapping our ice cream van in 'So…?' branding our sampling team visited 8 town and city centre locations across the UK in 10 days at the end of August and start of September. Managing everything from the vehicle, logistics and event spaces to staffing, health and safety and Covid-19 protocols the ice cream van arrived in pre-booked spaces in Whitby, Scarborough, Manchester, Liverpool, Cardiff, Swansea and London. Consumers said they felt confident taking part due to clearly marked social distancing, hand sanitiser stations and staff in branded masks and visors.
Socially distanced sampling
Led by two event managers and local brand ambassadors the campaign was a mix of product sampling, experiential and PR. A new range of So…? body mist products and flavours was showcased through an interactive 'wheel of fortune' game where free ice creams could be won on the spot and MONP voucher codes were distributed to drive in-store and online sales. Here's how our safe process worked:
staff temperatures were taken on site pre-activity
staff read and signed declaration of good health & RAMS (Covid-19 specific)
staff provided with NHS/ WHO approved PPE
staff sanitised hands before, during & after activity
all stock/ promotional material handled by 'sanitised' staff
hand sanitiser station set up for staff & consumers
socially distanced visual markers set boundaries for consumers
dedicated staff allocated to ensure consumer social distancing protocols
one-way consumer 'pathway' throughout the activation
What were the results?
3000+ quality consumer engagements
1400+ fragrance samples (50ml body mist spray)
1500+ ice cream giveaways
600+ MONP discount codes
London generated lowest numbers (of campaign criteria)
Liverpool generated highest numbers
Covid-19 logistics
iMP's Managing Director, David Gibbons, said "Managing the logistics of how to create a socially distanced consumer campaign during this pandemic has certainly been a challenge. But now that we've delivered a few of these Covid-sensitive activations we know exactly how to create a roadshow that both staff and consumers can enjoy safely, while providing some on-street retail insight for other potential brands. This is reflected in what consumers told us, saying they felt confident taking part due to clearly marked social distancing, hand sanitiser stations and staff in branded masks and visors."
Contact us
If you want to create a non-contact, Covid-safe sampling campaign or brand activation use the contact form below.