Promotional Sampling Bins
Hire sampling bins and promotional sampling units.
Sampling bin hire available from a single to day to a full sampling roadshow. Also known as dump bins or branded product bins, they're thermally insulated and fully mobile. We supply them branded, delivered, collected and staffed. We'll even do the sampling.
Our sampling bin hire service is perfect for chilled, frozen and even warm pre-packaged products. They're ideal for sampling around city centres, train stations, tube stations and event spaces. Available fully branded (we'll even provide you with a design template) they create a high visual impact ensuring consumers can't miss us. We also supply first class product sampling staff to help support the activity.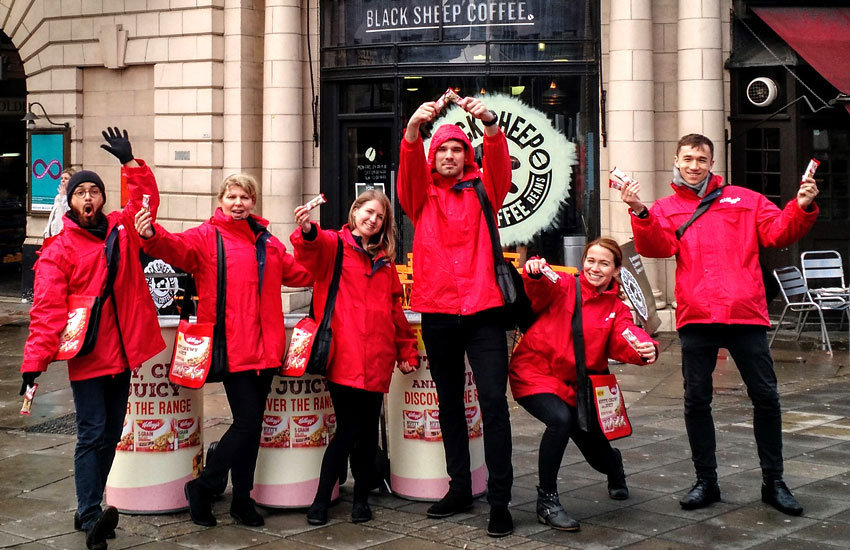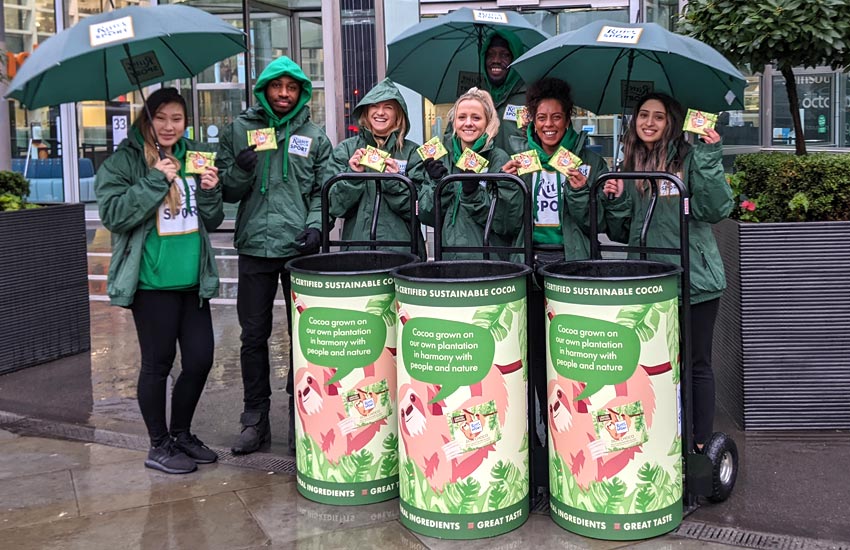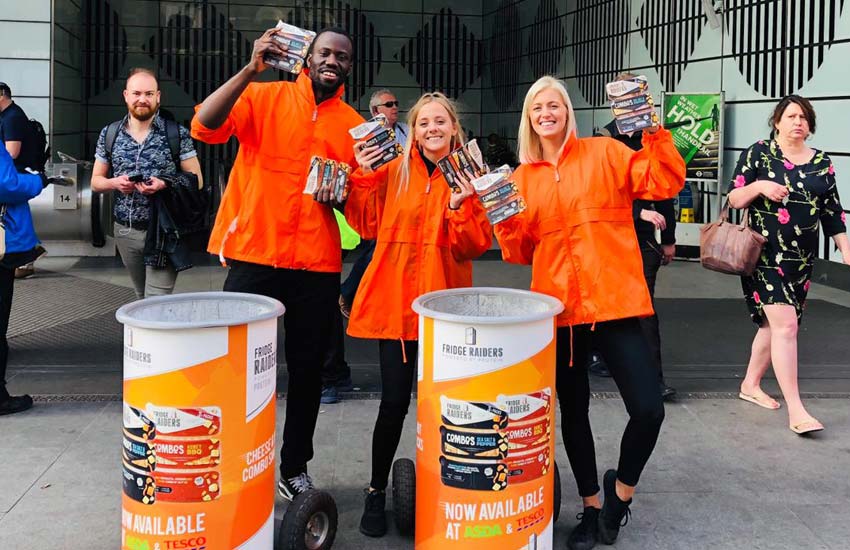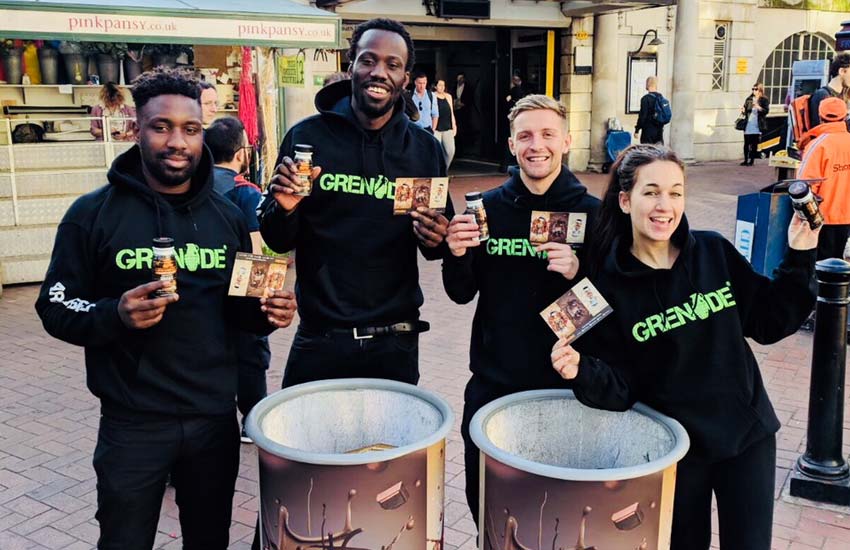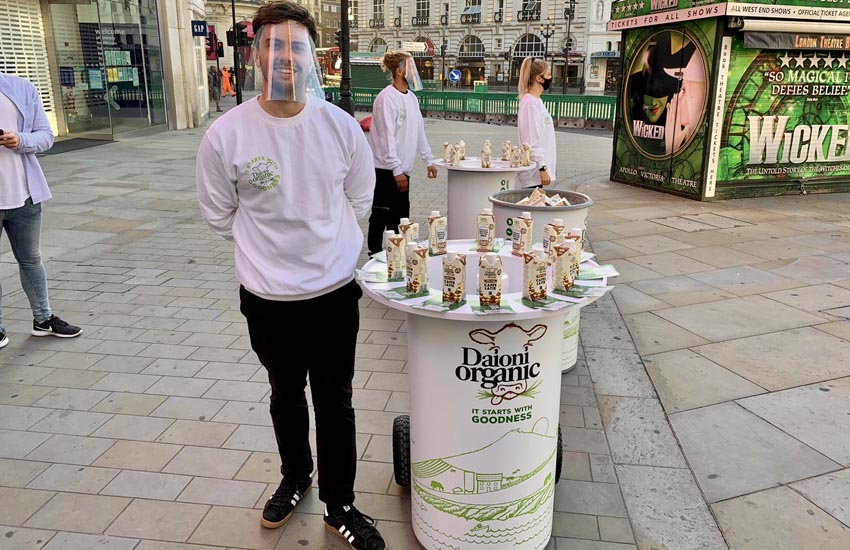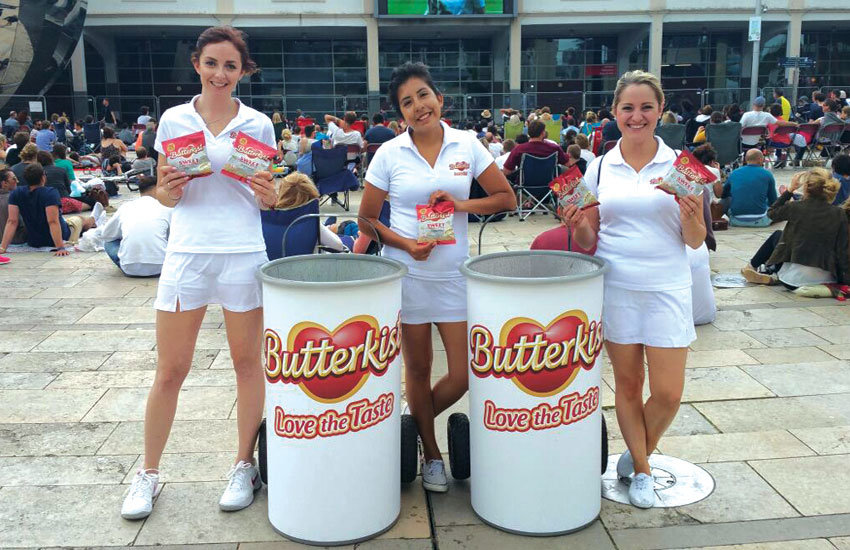 Sampling bins hire
Small enough to fit in a car or van but big enough to hold 180 Red Bull cans our sampling bins are perfect for quick, high volume 'grab and go' sampling at tube, rail and bus stations, festivals, city centres and university campuses. With no need for braking mechanisms, our sampling bins won't roll away under their own weight. From new flavours of protein bar to vegan snacks and crisps, coffee samples to hand warmers, mini-footballs to chocolate bars, we reckon we've sampled in excess of 7 million free and giveaway products to the general public in the last 11 years.
Branded dump bins
We can fully wrap and brand the sampling bins (sometimes known as sampling dump bin hire although we prefer not to use that term!). We can provide you with an artwork template or if you need them really fast our design team can create the graphic wrap in no time at all.
Where can we use sampling bins?
The short answer is pretty much anywhere that will allow us to. That means if we can obtain a permit or licence through the correct private or council channels, then we can give out free sample products to the general public. For example:
free samples to fans at sporting events and stadiums
family sampling at theme parks and festivals
Product sampling staff
We manage and maintain some of the finest industry leading product sampling staff across the UK from London to Leeds, Manchester to Edinburgh. You can read all about our product sampling staff on the specific page (click here) but simply put our team members are second to none. With years of event and exhibition experience of all types across most categories our sampling staff hold Food Hygiene Level 2 certificates as standard. This means they're aware of food hygiene, preparation processes, cleanliness and how to present the 'perfect serve'. From cooked meats to ambient food products, alcohol to ice lollies our staff have sampled most food types at one time or another. And they've got a few 5* Google reviews to prove it.
Full service sampling
We create and deliver high volume, high impact product sampling campaigns for brands like Grenade, Wall's Sausages, Kellogg's, Campbell's, Ben & Jerry's and more. We also manage all the fine detail and all the logistics needed for sampling products on the streets. So for our clients w go to great lengths to secure the optimum and ideal places to sample, research them, manage them and everything else making sure our  'brand-to-hand' ethos is carried through to the end. Most importantly we also have the back-end office, tools and experienced staff to execute a successful activity.
Contact us
Need to hire branded sampling bins? Contact us using the form, email or call 0113 243 8194.