We're also a plant-based and vegan sampling agency.
We sample all types of vegan and plant-based products from LoveRaw chocolate to Ritter Sport's vegan marzipan bars.
Since the explosion of veganism and increase in consumers searching out new foods, we've experienced a significant rise in vegan and plant-based sampling. From Little Moons mochi, Richmond meat-free sausages to Monty Bojangles chocolate truffles… we don't just sample the bigger retail brands – we love the challengers and disruptors too.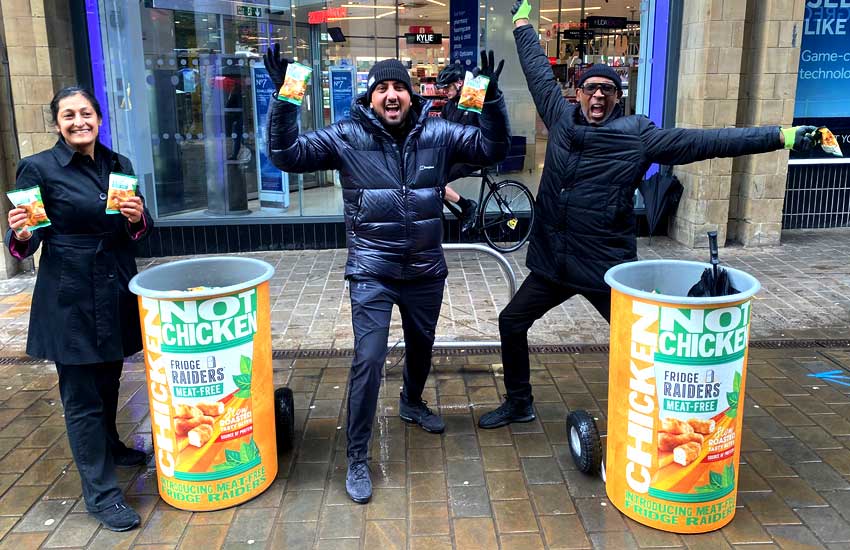 Plant-based sampling agency.
It's not just energy drinks and new fragrances that we sample. The rise in veganism and plant-based food products has created a huge demand for brands to connect with a new category of consumers: those looking for alternatives to dairy, meat and animal based products. We understand the demographic, the point of difference, the ingredients, the storage… the full end-to-end of the product.
Veganuary sampling.
As a vegan sampling agency, Veganuary is an ideal time to target vegan and plant-based consumers. With the Christmas hangover easing, shoppers are looking for healthier alternatives and a more diet focussed start to the new year. Here's a few reasons we think Veganuary sampling is a winner:
consumers are more health conscious
opportunity to showcase challenger brands instead of usual suspects
consumer mindset open to new options
shopper footfall is strong (eg. Jan sales)
uptake on free samples is higher than average month
Veganuary sampling conversions between 3% – 5%
Safe sampling.
We know how to safely store, handle and distribute samples, especially since the Covid pandemic. All our team members are experienced in handling both packaged and non-packaged food products, and hold Food Hygiene Level 2 certification as a standard qualification ensuring best practise food handling processes. We never outsource our sampling staff – they're all iMP team members with a professional attitude and consumer and client facing personalities.
Experiential sampling.
Experiential sampling is a relatively new term, combining the two services. Essentially it adds more theatre and more engagement for consumers, creating a higher visual impact than stand-alone sampling. For example, simple product sampling might involve targeting commuters at rush hour with a mobile sampling bin – see Ralph's Club – whereas experiential sampling creates more of a branded event – see the Little Moons case study link above. If you've got an idea and want to discuss it, get in touch.
Contact us.
Got an idea for Veganuary sampling or want to reach out to vegan and plant-based consumers? Get in touch on 0113 243 8194.