Covid-Safe Sampling & Brand Activation
Now you've clicked through… here's how we can help.
With a number of Covid-safe and socially distanced product sampling and brand campaigns under our belt, we know that sampling and brand activation are absolutely achievable despite these unusual times.
Using extensive health and safety documents, strict social distancing protocols, WHO/ NHS coronavirus guidelines and working closely with city councils and event space agencies, we have created successful non-contact sampling solutions for getting brands back in front of consumers and, more importantly, into their hands.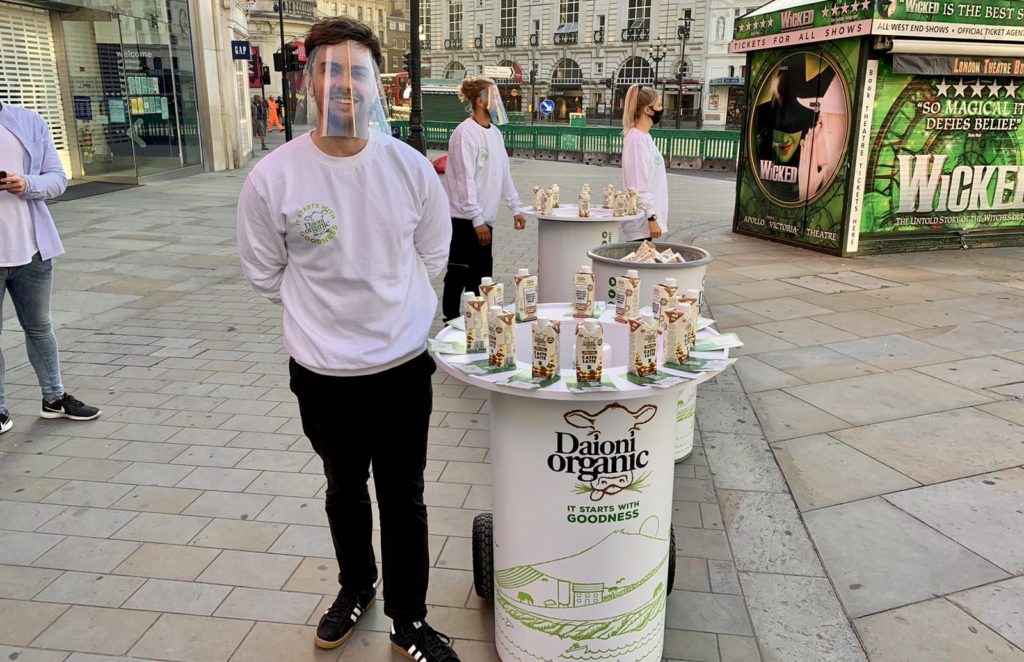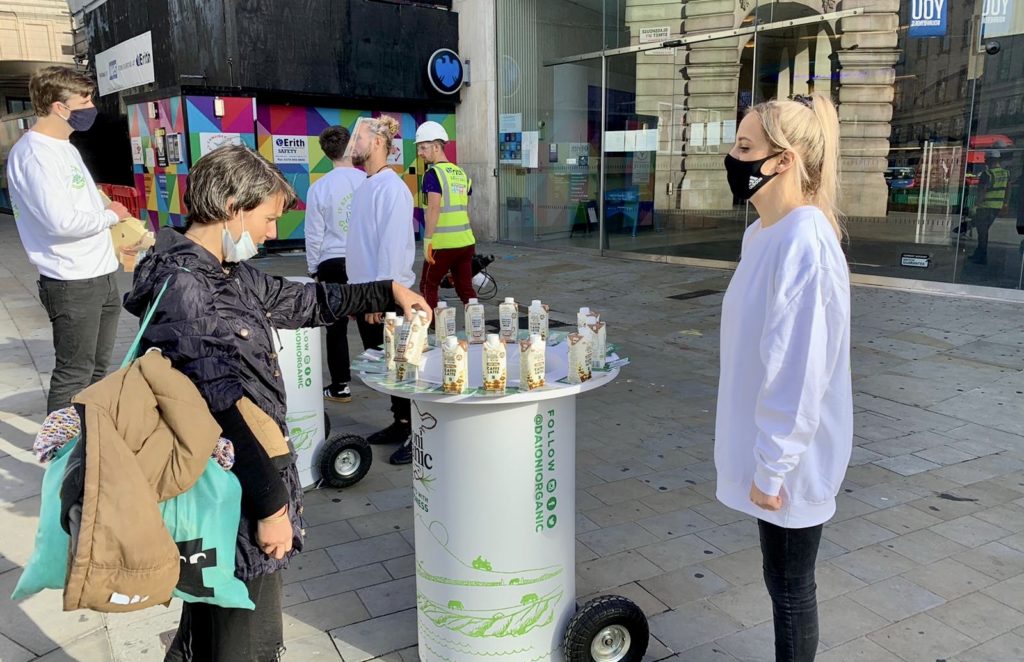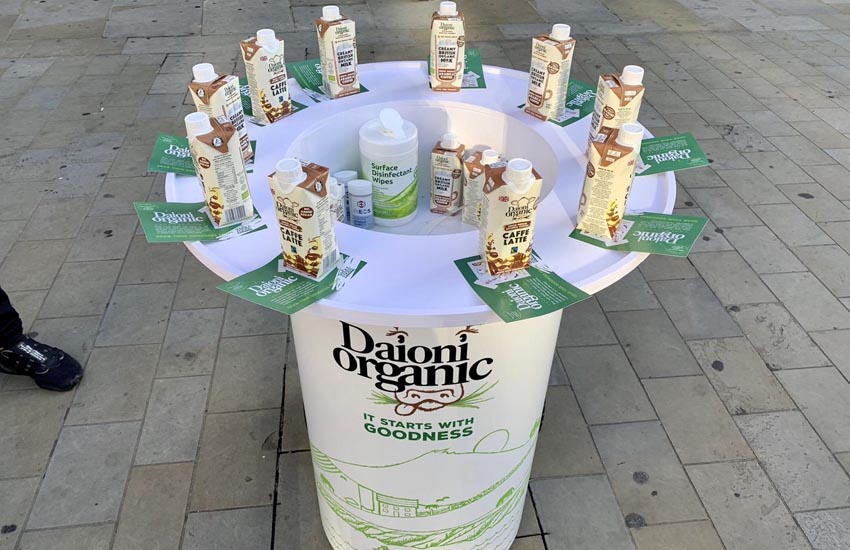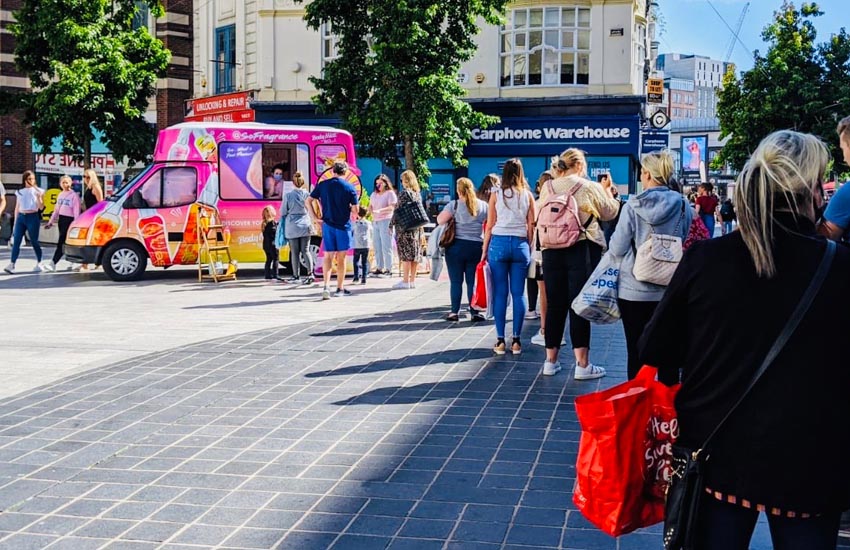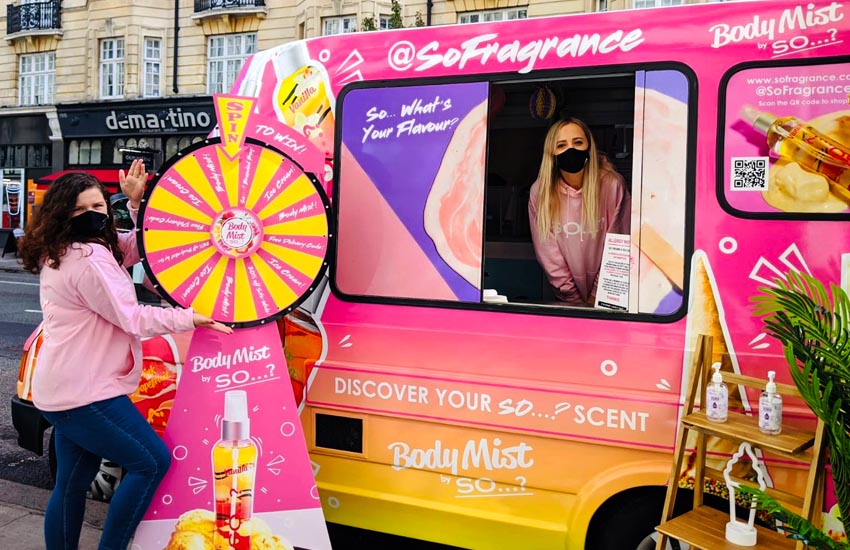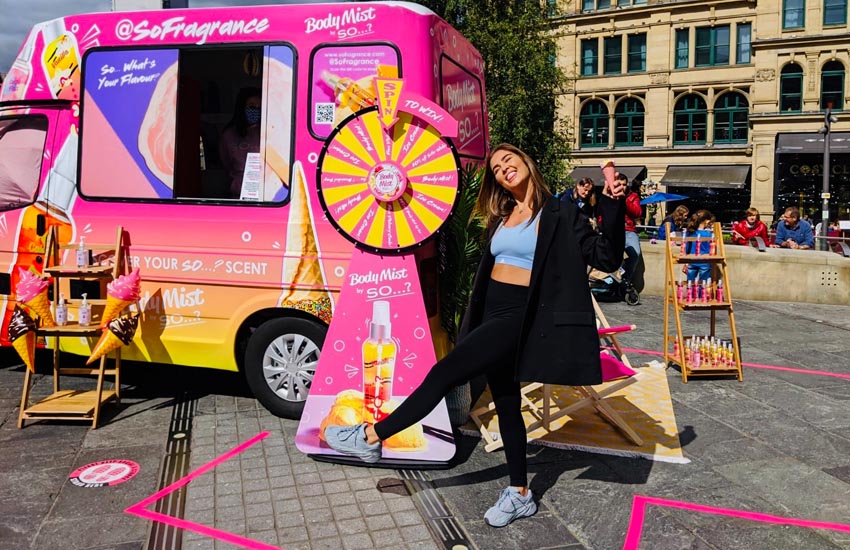 Contactless product sampling
Covid-19 restrictions mean that we've had to design a socially distanced product sampling solution. Using our sampling bins we've integrated a self-serve, non-contact 'extension'. This enables consumers to take a sample,  leaflet or MONP without making contact with our sampling staff, thereby reducing, or even eliminating the risk of physical contamination.
After each round of sampling the extensions are disinfected, staff sanitise their hands and restock using the integrated access hatch. So yes, it's possible to safely sample to consumers during this pandemic.
Covid-safe & socially distanced
As we've successfully demonstrated it's perfectly viable to create a safe brand experience using a vehicle or pop-up as a branded base for an activity. Our ice cream van is an ideal example of how to utilise an existing, familiar format, working with event space providers to carefully plan and mark out safe areas for both consumers and staff to promote the product or brand. The vehicle has a high visible on-street impact plus the thousands of viewing opportunities from other road users when travelling from city to city. Cleary defining the promotional boundaries, providing hand sanitiser stations for the public and staff in branded masks gives consumers the confidence that the correct protocols are being followed by the brand and in turn encourages them to take part.
BBE & short shelf life stock
We know (and work with) food and drink brands who have leftover lockdown stock with short BBE dates that never made it to the shelves due to Covid-19. Rather than dispose of the stock, creating uneconomical waste, we created fast turnaround sampling campaigns within days. This saved the brands' money, eliminated potential waste and put sample products directly into consumers' hands.
Coronavirus safe processes
A good (and simple) example of how we delivered one of the campaigns was as follows:
all staff temperatures taken on site pre-activity
all staff read and sign declaration of good health
all staff read and sign RAMs documents (Covid-19 specific)
all staff issued with NHS/ WHO approved PPE
all staff sanitise their hands
all stock/ promotional material handled by sanitised staff
hand sanitiser station set up for general use (staff & consumers)
socially distanced visual markers set the boundary of the activity for consumers
dedicated staff to manage queues and ensure social distancing protocols
one-way directional consumer 'pathway' from start to finish
Brand responsibility
Face masks, hand sanitiser and social distancing are now part of most consumers everyday routine and are now widely accepted as the new normal. Far from being a hindrance to campaigns, it gives consumers confidence that best practices are being implemented and that the promotional environment is safe. Brands and businesses are acutely aware of the responsibility to do everything they can in theory to protect staff and the public, but in practice we've been there and done it so we know exactly what it looks like in real life.
Consumer confidence & footfall
There's no doubt that footfalls are down in all types of consumer environment – it's visually apparent. But the evidence from the campaigns we've delivered suggests that:
consumers are generally very happy to engage/ interact
consumers frequently comment "…it's nice to see something normal again…"
sampling in volume is still achievable – it just takes longer due to slower footfall
non-contact sampling and brand activation empower consumers to take part
brand activation with high visibility still attracts consumers and delivers the brand message
of the campaigns we've delivered we have either hit or exceeded KPI's and targets
Contact us
Hit the 'email' button below or go to our contact page here.