Product Sampling Agency Leeds
iMP is an award-winning Leeds product sampling agency. We sample hot, cold, frozen, chilled and ambient food, drinks, alcohol & non-food products.
As a full service product sampling agency in Leeds we create high volume, high impact consumer product sampling campaigns and roadshows across the North's greatest city. But we don't stop there. From London to Glasgow to Edinburgh, Birmingham and Manchester to Cardiff, Bristol, Newcastle, Liverpool, Brighton and everywhere inbetween, we're out there sampling.
We have more than a decade of expertise, experience and knowledge in executing nationwide end-to-end food and drinks sampling roadshows, tours and campaigns (as well as supplying premium sampling staff). From new product campaigns like handing out 50,000 Grenade protein shakes to commuters at tube stations across London, 50,000 freshly cooked Wall's Sausage buttys in nearly 50 cities to 150,000 Kellogg's Nutty Chewy snack bars and almost 500,00 energy drinks we have the insight, experience and set-up to deliver product sampling activations of all shapes and sizes.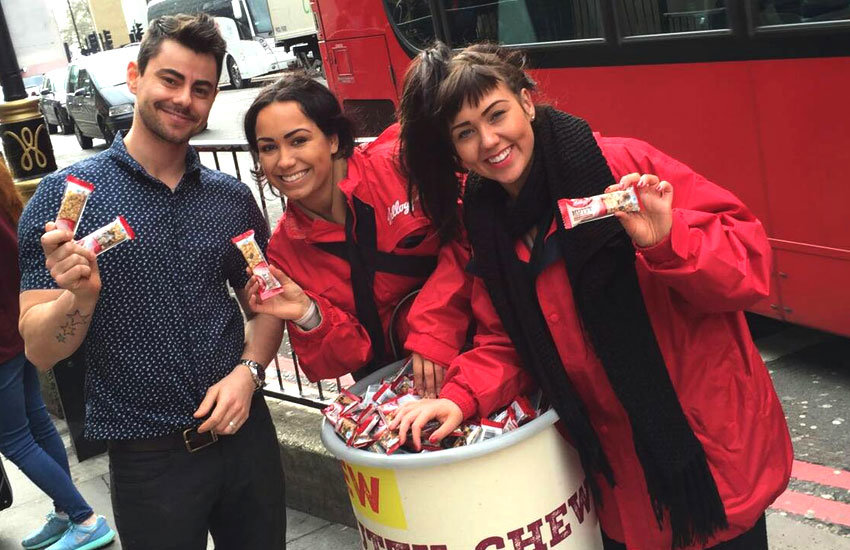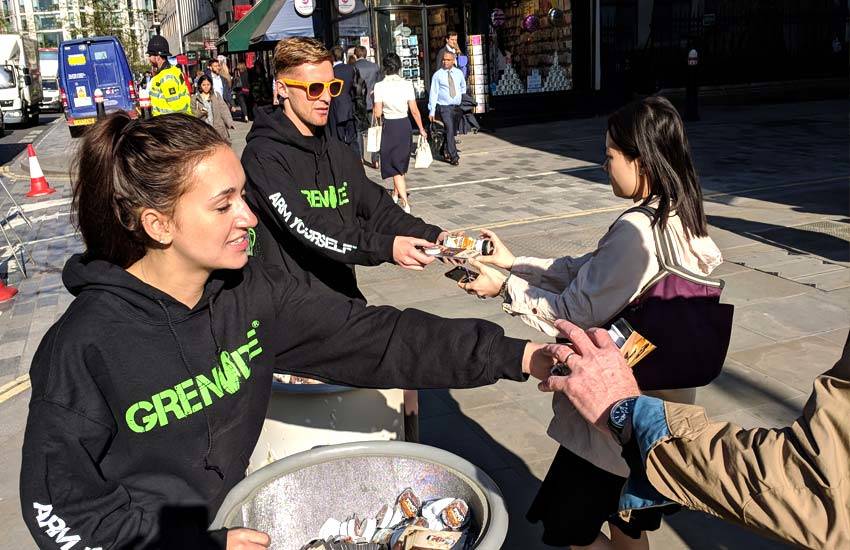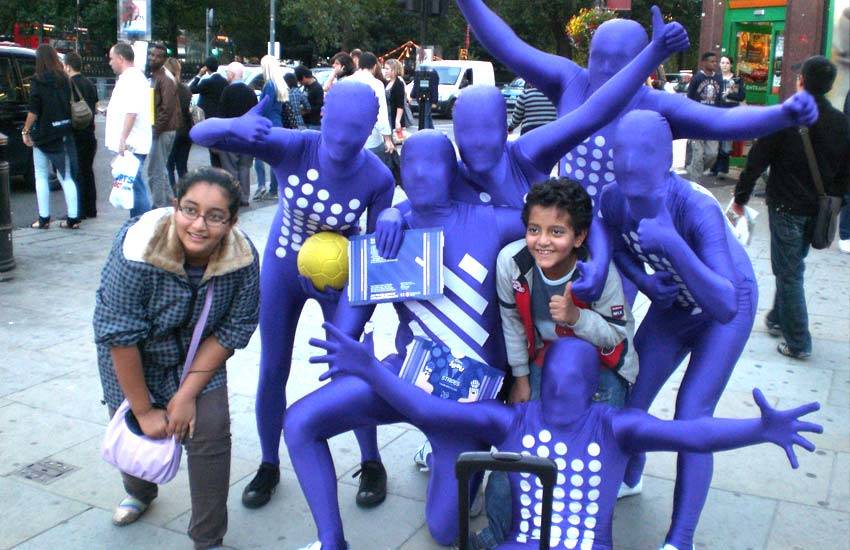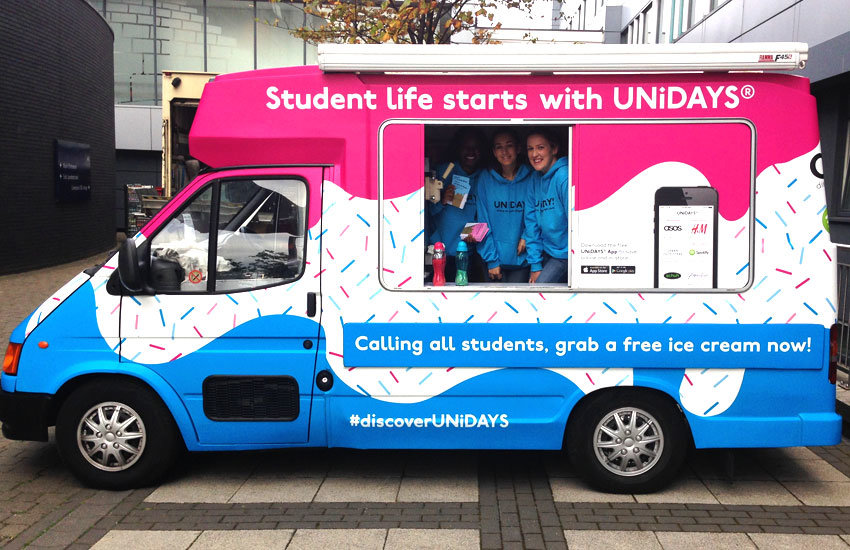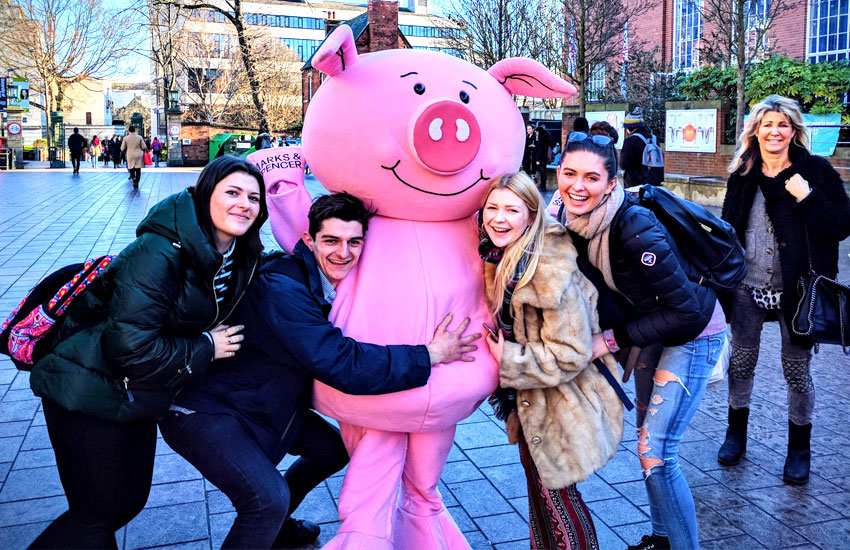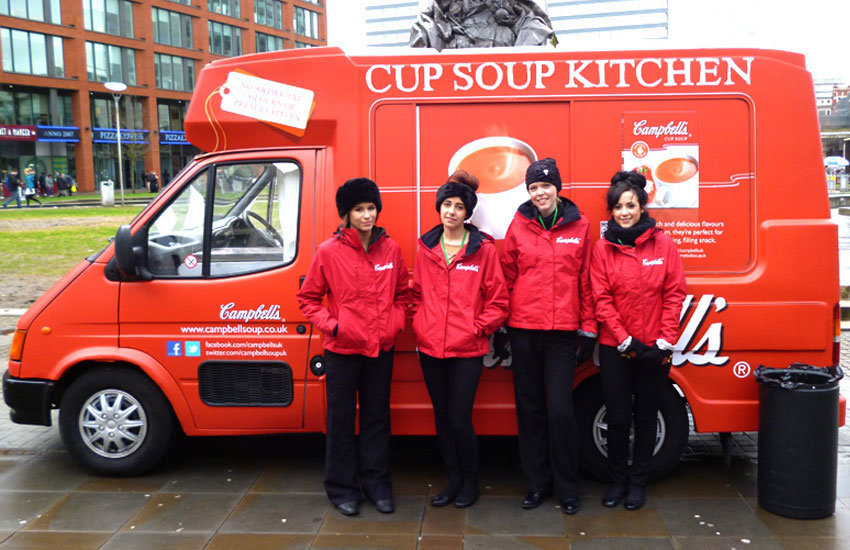 Full Service Product Sampling Agency Leeds
Full service means we do pretty much everything to create the campaign. We sort out all the logistics to get the activation up and running from researching the best spaces to sample (we know most of them already), booking, managing and everything after to ensure our 'brand to hand' mantra is delivered through to the target consumer. With a huge warehouse and experiential workshop right underneath our Leeds office we have the in-house support, equipment and staff ready to go. Even critical elements like temperature controlled delivery and storage, health and safety, risk assessments, transportation, installation and derig are things we constantly manage. With a number of promotional sampling vehicles, sampling pods and sampling bins we have everything we need to get out there. We truly are in-house agency and at the end of the day we're ultimately here to help drive consumer sales.
What Can We Sample?
The typical types of products we sample to consumers are:
drinks samples (such as energy drinks, juices, smoothies and water based products)
alcohol samples (from spirits to beers, in-store, at festivals or in clubs & bars)
hot & cooked food samples (such as cooked meats or sausages)
chilled & frozen food samples (such as ice cream or ice lollies)
ambient food samples (such as cereal bars)
Where Can We Sample in Leeds?
Here are some typical examples of sites where we regularly distribute samples in and around Leeds:
Leeds supermarkets
Leeds based sporting events & stadiums
Leeds festivals & music events
Leeds businesses
Leeds Product Sampling Staff
All our product sampling staff hold Food Hygiene Level 2 certification as a minimum requirement ensuring optimum food handling standards. Our team members are iMP staff – we never outsource – and they're professional, consumer and client facing. We've got plenty of 5* Google reviews to back it up. From premium energy drinks to new snack bars, cereals to celebrity perfumes, ice cream to microwave sausages, we estimate we've sampled more than 5.5 million products to consumers since 2008.
Sampling Promo Vehicles & Pop-Ups
You may have seen one or two of our branded ice cream vans around Leeds over the years. They're self-contained, can be equipped with fridges and freezers and are ideal for all kinds of chilled, frozen or ambient product giveaways. We've also created a couple of VW Camper vans for sampling. They have a great retro-cool, eye-catching look and can be fully branded. We also supply promo vehicle drivers and staff to support the activity. But one of the most impressive pieces of kit we've developed recently is our experiential and sampling shipping container hire service. Perfect for outdoor brand activations we hire out, build, install and kit-out promotional shipping containers. They're less expensive than you'd think, can be fully branded inside and out, they're durable, tough and look pretty awesome too. Kitted out with LED lighting, power, non-slip safety flooring and steps we can customise any shipping container to suit the campaign. Have a look at the double-decker shipping container we built for Yorkshire Water.
New & BBE Product Sampling
From new flavours of ice cream to variations of existing brands and products iMP have the ability to generate a quick turnaround. Whether it's surplus sample stock, a short BBE or product launch we have the in-house capability, storage and logistics to receive and distribute stock in less than 48 hours – sometimes quicker. Whether it's an ambient cereal bar, protein product, new ice cream brand or energy drinks sampling we manage all elements of the brand activation.
Contact Us
If you need support for a new product launch in Leeds or nationwide sampling tour get in touch using the form below.